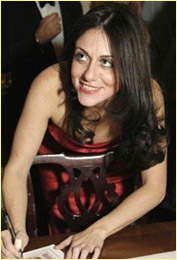 About Steph
Believe it or not, this is my nineteenth "about me" attempt! What can I tell you? Im 38, married, a mommy to boy/girl twins, and I work full-time. Those are the basics.

My husband drives me crazy, which is why I would say I am happily married 80% of the time and happily divorced, in my head, the other 20%. The fact that he is still breathing is a testament to the power of extra dirty martinis, and his ability to make the best Greek salad and Bloody Marys.

Anyone who knows me is well aware of the fact that before I met Andrew (the hubby), all I wanted was to get married and have kids. I've recently realized that my desire to get married is very similar to the desire I had as a child to break my arm. All the other kids were doing it, and afterwards, they had this really cool cast that everyone wanted to sign. Marriage is the same. You watch all your friends doing it. The rings are pretty cool and everyone wants to come celebrate. But what happens after that? In the case of the broken arm, the thrill wears off and your left with this stupid broken arm that is just slowing you down. Kind of like husbands! Slowing us ladies down! Moral of the story - think twice before jumping out of that tree house!

My children. I never knew this kind of love until I had them. They are almost two. I have concerns that my daughter may grow up to be a bully. I have concerns that my son is going to put me in an early grave with his constant attempts to land us in the ER.

My parents. I love them. I also think that they are aneurysms in human form. I assume that one day my children will think this about me. They will be wrong.

My job. After spending 18 months as a stay at home mom, going back to work has been the equivalent of a paid vacation to Bali...and not just your run of the mill five-star resort, but one of those super cool luxury huts that are literally IN the water where no one can get to you. But I digress...

While some may disagree, I believe in putting yourself out there - the good, the bad, the ugly, and the downright hideous. While I know it means I am subjecting myself to judgment from others, my experience so far has been that you will find out you are not alone in what you feel and what you go through in life, and nothing feels better than being understood.

So if I get judged a little along the way, who cares...Im judging the judgers, and well, screw you!